Promotion System
Our group has a matrix-type structure including the internal company and respective regions, promoting environmental activities while having individual roles clarified. Each internal company is expected to manage its own targets on items relevant to business activities. Meanwhile, we take the initiatives to such activities as compliance of regulations, raising environmental awareness, and communication with local society mainly on the regional basis in accordance with action plans. Various working groups are set up as the cross-functional team across the internal company for promoting activities.
The activities will be confirmed with respect to the progress toward the target, and task in the Central Environmental Committee at which President, directors, company presidents, regional environmental administrators, and heads of the working group are present for continuous improvement.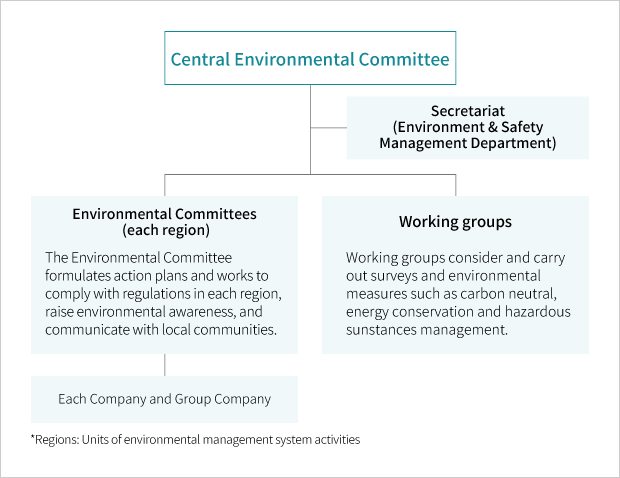 The Establishment Status of our Environmental Management System
We received ISO 14001 integrated certification for NGK SPARK PLUG CO., LTD. and 10 group companies (As of the end of FY2020) in Japan. Other domestic and overseas group companies have already been certified for environmental management systems including ISO14001 certification, individually, resulting in 17 overseas group companies which have received the certification in the end of the fiscal 2020.
*See Sustainability Data book for the locations which acquired ISO14001.
Initiatives for Environmental Risk
Inherent in business activities are various risks including environmental incidents and pollution. NGK SPARK PLUG Group identifies these risks and endeavors to reduce and/or prevent them.
PCB Control
PCB waste stored at our Nagoya Plant and Komaki Plant were disposed of in 2018. Only CS NAKATSUGAWA has PCB wastes and it is under strict control for proper disposal.
Drills for Emergency Situations
We hold regular drills for emergency situations to prepare for unforeseen accidents, etc. Each department identifies potential environmental accidents to prevent associated adverse environmental impacts.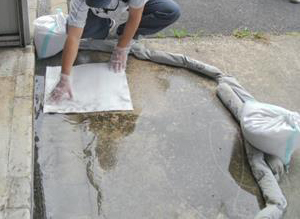 Compliance with Environmental Laws and Regulations
To ensure compliance with environmental laws and regulations as well as agreements with local municipalities, we set stringent voluntary standards to prevent violations and complaints.
In fiscal 2020, there were two violations and two complaints. Against a violation or complaint that occurred, we take measures immediately, including those to prevent recurrence.
Handling Violations and Complaints in Fiscal 2020
| | Company | Situation | Countermeasures |
| --- | --- | --- | --- |
| Violation | NGK SPARK PLUG CO., LTD. | In the north area of the Komaki Plant, the BOD value of wastewater exceeded the standard. | We activated the reactive layer by adding additional regulators, etc. |
| Violation | CHANGSHU NGK SPARK PLUG CO., LTD. | The value of ammoniacal nitrogen in wastewater exceeded the standard. | The flow of sewage pipes was improved by increasing the number of washes. |
| Complaint | NTK CERAMIC CO., LTD. | At the Kani Plant, we received a request to improve the noise of cars late at night. | We educated and enlightened our employees. |
| Complaint | CERAMIC SENSOR CO., LTD. | We received a request to improve the noise of the heat exchange pump. | Vibration was suspected to be caused by resonance, so we installed a pump foundation. |
Environmental Education
Environmental education is conducted to deepen employees' understanding of environmental issues and raise their environmental awareness. A total of 34 sessions were held in fiscal 2020, with 498 participants.
In addition to rank-specific education, we hold four courses on "Environmental basics", "Environmental management system", "Calculation methods for substances with an environmental burden", and "Environmental laws and regulations (for facilities).
Starting in 2017, we went to the departments related to these four laws and regulations and provide on-site environmental law training focused on the necessary compliance.
In regard to the "Environmental Handbook" for employee education, we will enhance the content of the handbook to take in consideration the latest trends around the world.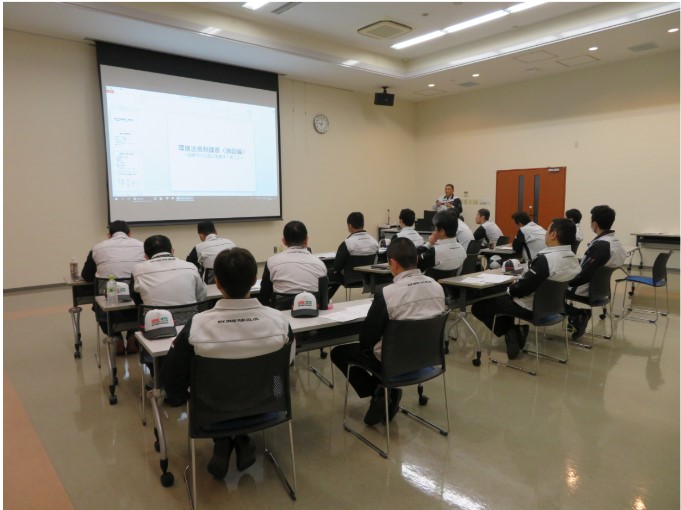 Support for Suppliers
We offer our suppliers environmental education and support for establishing environmental management systems to acquire third-party certification.
EMS Third-Party Certification Support Conducted
| Topic | No. of Companies Attending (total sum) |
| --- | --- |
| ISO14001 | 6 |
| Eco-Action 21 | 37 |