Chemical Substance Management System
Chemical substances are used in various aspects of our daily lives as well as in industrial fields due to their many excellent benefits, and we also use many chemical substances.
On the other hand, some of them are harmful to humans and the environment, and regulations on hazardous chemical substances have become increasingly severe year by year around the world in association with the growing public awareness of environmental issues.

We have a three-step management system for handling substances of environmental concern:
1. Answering requests from customers, 2. Handling within the Group, and 3. Procurement from suppliers.
Naturally we ensure compliance with laws and fulfill customer requests. More than that, we aim to reduce the use and emission of substances of environmental concern so as to minimize the impact of chemical substances on the environment and human health.
Answering Requests from Customers
With the reinforcement of regulations on chemical substances contained in products, requests from customers in the automobile, electrical and electronics industry regarding improved compliance are increasing. The REACH Regulation of the EU has triggered an increase in the status of chemical substances contained in products; we are taking all the appropriate measures including submission of Non-Containing Declarations, submission of various data with IMDS, JAPIA sheet, chemSHERPA, etc., and handling investigations and audits regarding our management systems.
Handling within the Group
To respond appropriately to increasingly strict chemical substance regulations worldwide, we perform non-containment management for products and usage management within plants.
For hazardous chemical substances, we set hazard rankings according to toxicity and the strictness of regulations and establish handling standards for each rank.
From here on out, we will work toward substitution of hazardous chemical substances and the strengthening of management, to assure compliance with laws and with the demands of customer.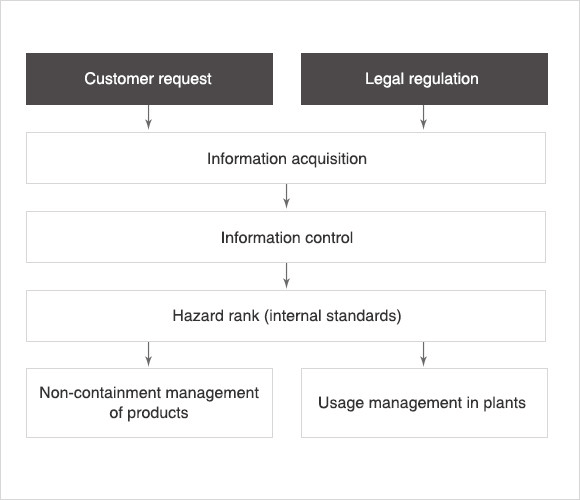 Hazard Rank
| Rank | Handling standard | Substances covered |
| --- | --- | --- |
| Prohibited substances | Use is prohibited. | Substances prohibited from use or strongly restricted by regulations. |
| Restricted substances | Safer substitutes will be sought, while making efforts to reduce the use of current substances. | Hazard level and toxicity are equivalent to prohibited substances, but an immediate changeover is impossible due to its special characteristics. |
| Monitored substances | Supplies need to be examined to find existence / non-existence of applicable substances. | Those not prohibited or restricted but that require monitoring. |
Management of PRTR substance
Aiming at optimized management, the respective divisions have ensured to identify and totalize PRTR substances for clarifying handling volume, release volume, and transfer volume.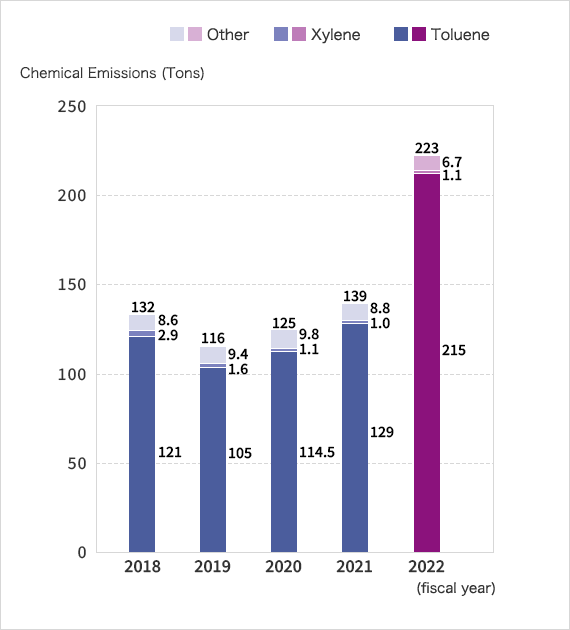 Procurement from Suppliers
To manage chemical substances contained in products appropriately, it is imperative that we gain the cooperation of our suppliers. For this reason, we request in our Green Procurement Guidelines that our suppliers not use hazardous chemical substances banned by NGK SPARK PLUG CO., LTD. We designate suppliers that meet our system and material standards as Green Suppliers. In collaboration with our Green Suppliers, we promote appropriate management of hazardous chemical substances.
Our Eco Vision 2030 sets the goal of achieving 100% adoption of a green procurement system, and we will work to establish a green procurement system for the entire NGK SPARK PLUG Group.