For risk management, we have appointed the President as "Chief Administrator" and the Director in charge of the Business Management Dept. as "Promotion Manager". We are making efforts to improve our risk management system and its operation and create one that integrates risk management to prevent risk with crisis management, to handle serious risks when they occur.
Moreover, we have established the Risk Management Committee, which is chaired by the director appointed by the Chief Administrator. This committee regularly makes improvements on the risk management system and monitors its operation. The effectiveness of the system has been also regularly reviewed and reported to the CSR and Sustainability Committee for its confirmation.
Company-Wide Risk Management
In order to identify and limit those risks that could have serious impacts on our business continuity and on the achievement of our targets, we follow the risk management process as described below. We also evaluate the ESG-related risks including those concerning climate change and human rights.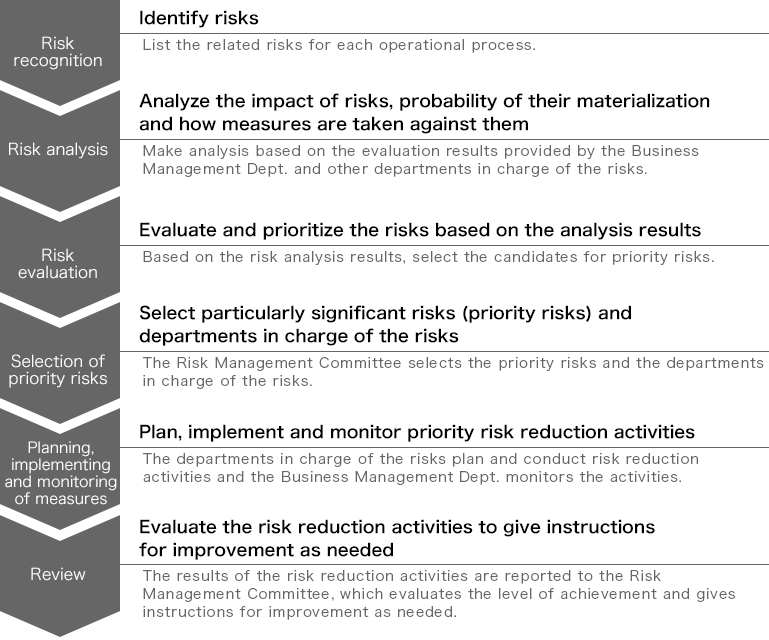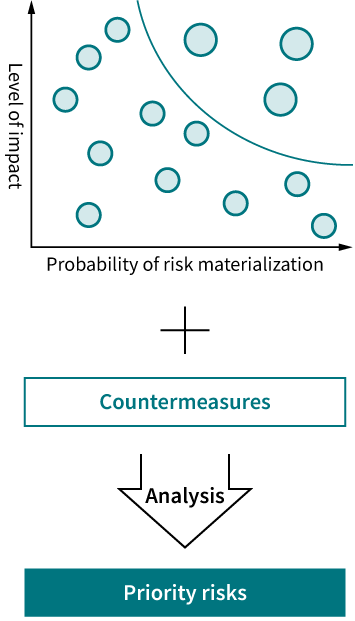 Handling Crisis
If there is an apparent risk that causes a serious impact on business continuity, a crisis response team is immediately formed to handle the situation.
Business Continuity Management (BCM)
In preparation against possible earthquakes and other large-scale disasters, we are conducting BCM activities. Specifically, we are making business continuity plans and working on disaster control and reduction in a group-wide basis to minimize damage in the event of a large-scale disaster and resume production as soon as possible if operation is suspended, thereby helping customers maintain their supply chains.
We are also implementing measures against infectious diseases. To deal with COVID-19, we expanded our work at home system and reviewed work shifts in line with the internal guidelines, thereby continuing to operate our business while preventing infection. We will verify the results to make more preparations against infectious diseases.
Major initiatives related to business continuity plans (BCPs)
We have made a BCP for each of our departments. Each plan defines the initial response to be made and recovery procedures to be followed in case of emergency.
<IT departments>

To ensure our business continuity, we are continuously working to minimize the damage that might be caused to our IT systems in the event of a disaster and speed up the time required for recovery.
To minimize such damage, we have moved our Internet platform to a highly robust data center and been gradually relocating the operating environment established for our business systems. Also, to shorten the recovery time, we are shifting to cloud backups so that we can recover and restart the systems by using undamaged backups.
We also plan to integrate the IT systems of our domestic Group companies by using an integrated server infrastructure so that all companies can take BCP measures on the same level.
Moreover, we are regularly providing more specific and practical education and training so that employees can make better responses in case of a disaster.

<Procurement departments>

We are fostering BCP measures for key procurement items such as materials and parts, including purchasing from multiple suppliers. In view of the fact that we need a range of materials and parts to manufacture our products, we have built up a system to implement BCP measures across the supply chain in cooperation with suppliers.

<Buildings and facilities departments>

We are implementing earthquake-resistant measures for our buildings and facilities in preparation for the Nankai Trough Earthquake. We have a checklist to ensure if entering the building is possible in the event of an earthquake, and we are promoting building inspection drills at each site.
Once entering the building, the recovery team inspects the infrastructure, ancillary facilities, and equipment according to the procedures stipulated in the BCP and implements recovery activities according to the priorities.

<Business departments>

In the BCP made for each department, we set a limit for the recovery time required for our major products. We also formulate action plans for the recovery teams to achieve early recovery.

<BCP training>

We conduct BCP training every December for the purpose of resuming business as soon as possible in the event of a disaster. BCP training is designed to improve the effectiveness of BCPs by formulating recovery plans for the major businesses, organizing recovery teams and implementing recovery activities. To prepare for a situation where our internal network is unavailable, we conduct training on communicating with the emergency headquarters using IP wireless equipment and sharing information via the Internet.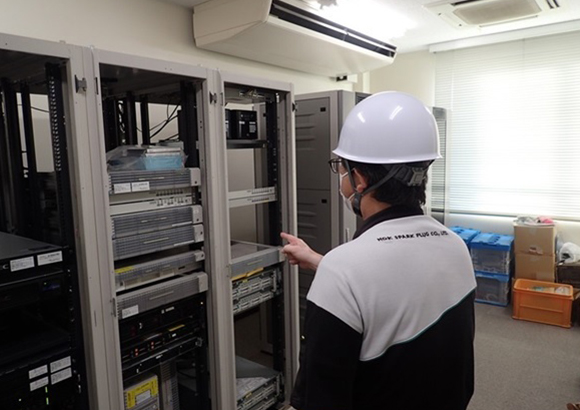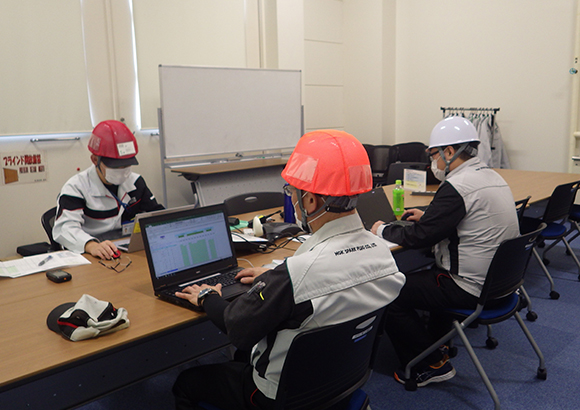 Major disaster control and disaster reduction activities
<Implementation of the joint disaster prevention drill>

In anticipation of a Nankai Trough Megathrust Earthquake, we are implementing the Company-wide Disaster Prevention Drill as a joint drill for domestic Group companies. The drill includes training for evacuation, confirmation of employees' safety, incipient stage firefighting, and inspection of damage caused to facilities and equipment and is designed for early recovery in the event of an emergency.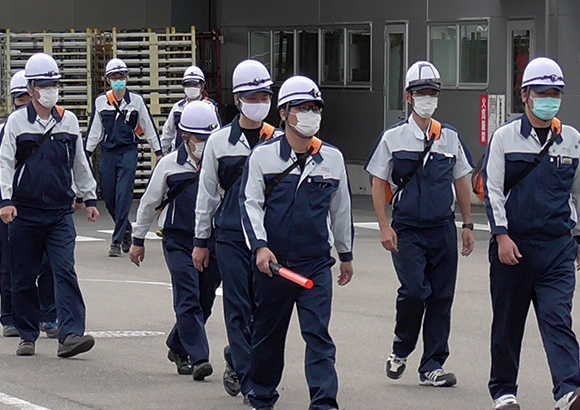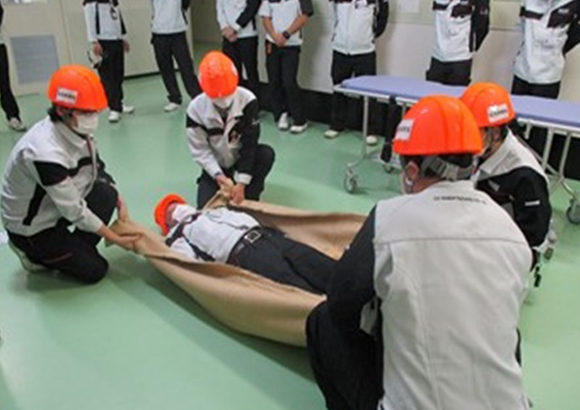 <Measures against storm and flood damage>

Recently, climate change has been causing more extensive storm and flood damage. In response, we will work to minimize damage by making disaster-specific timelines for each of our business locations and checking local hazard maps annually, etc.

<Raising employees' awareness of disaster prevention>

In order to enhance the disaster response capabilities of our employees and foster our business continuity, we distribute to employees copies of the booklet titled "NGK Spark Plug Disaster Prevention," which shows the action guidelines to be followed in the event of a disaster.