Promotion System
In order to enhance compliance, we established the Compliance Committee chaired by the Representative Director. This committee conducts activities to prevent noncompliance issues. It will also give instructions about the measures to be taken in the event of a noncompliance incident and monitor the implementation of the measures. Moreover, it provides compliance education and conducts awareness-raising activities targeting both executives and employees while also providing related information and raising employees' compliance awareness through designated compliance facilitators at each department.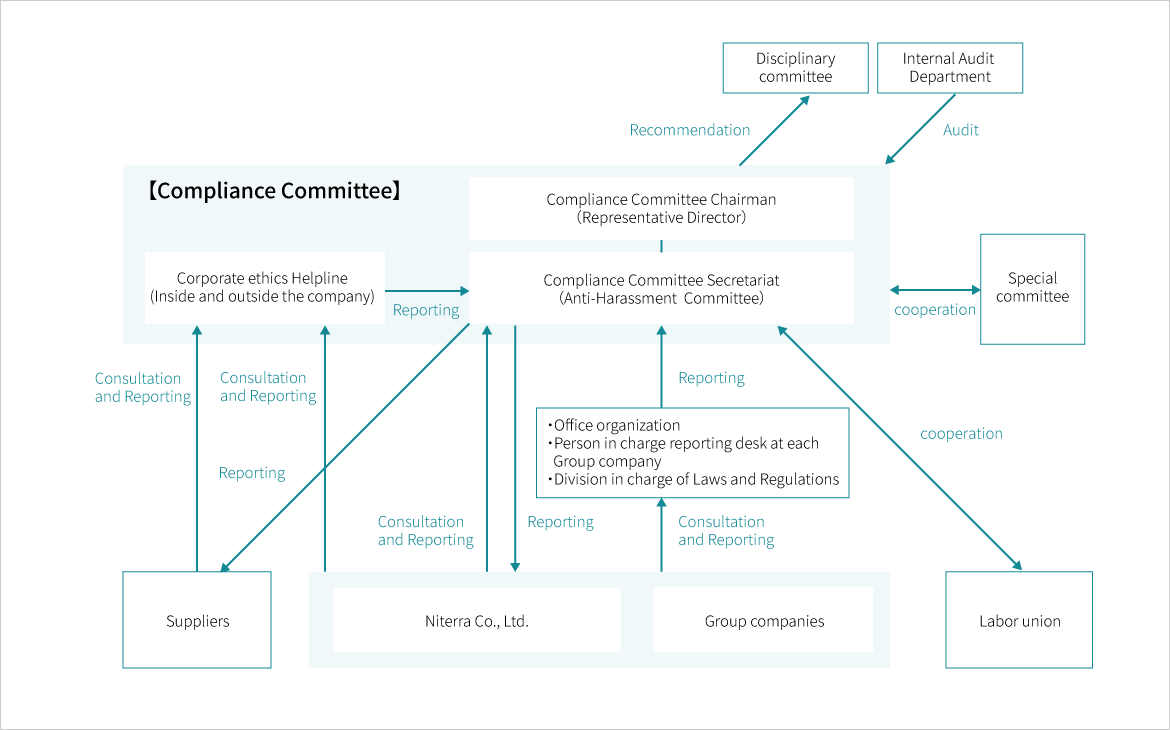 Corporate Ethics Helpline
We have established the Corporate Ethics Helpline as an internal reporting system available to employees and suppliers seeking consultation and making reports regarding compliance. We have worked to improve user convenience by establishing channels not only inside the company but also via an external expert service provider and enabling employees and suppliers to seek consultation and make reports also outside work hours and on holidays. This service can be used anonymously.
Regarding consultations and reports received, facts are investigated with discretion so that the reporting employee or supplier is neither identified nor feels uncomfortable, and if problems are confirmed, they are dealt with promptly.
In FY2020, there were 63 consultations and reports, including those from employees of Group companies and those related to labor affairs and internal regulations, and we promptly took corrective actions for the identified problems.
We are continuously working to make the helpline service widely known by measures such as introducing it in training, putting up related posters and distributing carrying cards describing the service.
Also, we have established channels for consultation and making reports at each of our overseas group companies.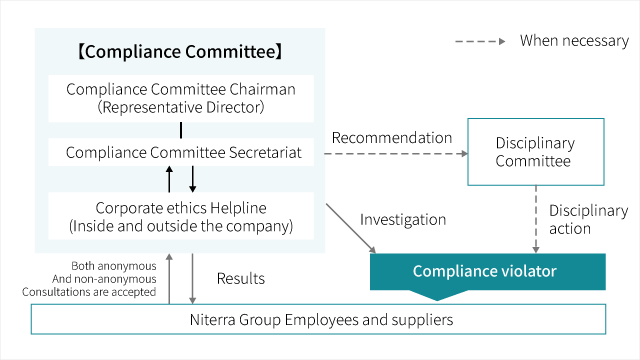 Compliance Education and Awareness Raising
To raise employees' awareness and knowledge regarding compliance, we are continuing to educate them by using the Compliance Guidebook, which summarizes the rules concerning companies and society, and the Compliance Newsletter, which provides specific examples of compliance issues that could arise in our daily operations, in addition to holding level-specific and theme-specific training.
Moreover, in order to check employees' level of understanding about the corporate rules and systems and to examine the corporate culture and identify compliance risks, we conduct a questionnaire survey on compliance targeting employees and then give feedback to their workplaces to foster improvements.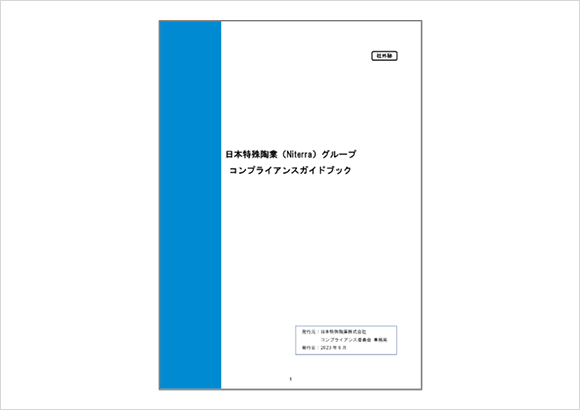 Initiatives to Prevent Corruption
We are striving to prevent corruption in line with the statement made in our Corporate Code of Conduct: "We shall promote fair, transparent, free competition and sound trade. We shall also ensure that our relationships and contacts with government agencies and political bodies are of a sound and proper nature."
We issued the Compliance Guidebook in 2012, in which we set the rules concerning the prevention of corruption, including the prohibition of involvement in political contributions or bribery, and made employees aware of these rules.
Subsequently, in 2013, we issued the Conduct Guidelines Concerning the Giving and Receiving of Gifts and Entertainment to raise employees' awareness of the issues and prevent them from becoming involved in misconduct. Further, in 2016, we signed the UN Global Compact, openly reaffirming our commitment to preventing corruption.
We are thus working to prevent corruption in line with the guidelines and others. We respond to any violations of the anti-corruption rules mainly through the Compliance Committee. Our overseas Group companies are also taking action to prevent corruption, especially to prohibit and prevent bribery of civil servants, including providing employees with related education and conducting surveys on local laws. We also request that suppliers refrain from acts of bribery through our CSR Procurement Guidelines. In FY2020, there were no violations of related laws and regulations across the Group.
Activities Concerning Competition Laws
Taking seriously our violation of the Anti-Monopoly Act of Japan, as uncovered in FY2014, we have established a system to promote compliance with competition laws and to ensure legal compliance both within and outside the country.
In Japan, we formulated the Anti-Monopoly Act Compliance Manual and distributed copies to employees while holding a range of related seminars internally for both executives and employees. Moreover, we have introduced an in-house e-mail inspection system to monitor and prevent recurring violations of the competition law.
Our overseas Group companies are required to report the activity status regarding compliance with competition laws to NGK SPARK PLUG on a regular basis. In addition, the company's teams in charge of affairs concerning competition laws and compliance visit the Group companies, where they audit the companies' compliance systems and implementation status and check whether local employees are sufficiently aware of the related rules. Seminars featuring guest speakers are also held.
We will continue our education and auditing activities to ensure compliance with competition laws both in Japan and abroad.
Export Control
In order to ensure compliance under the multilateral export control regime (MECR) established for international peace and safety, we have established related internal rules and an in-house export control organization. We also conduct awareness-raising and inspection activities targeting departments engaged in export control, thereby ensuring and enhancing our export control in compliance with the related laws and regulations.