Basic Philosophy
We consider diversity and inclusion to be one of our most important management strategies as we believe that diversity and inclusion are essential for companies to attain sound growth and ensure happiness for all employees.
We acknowledge and accept different people regardless of their gender, age, disabilities or nationality as well as of their lifestyles or personality. Then, we utilize new values and ideas coming from an employee-friendly workplace that accepts such people by combining different "knowledge."*
*Combining different "knowledge" means combining human resources with different attributes, values or ideas.
Gender Equality Initiatives (Promoting Empowerment of Women)
Since 2013, as our first step toward diversity promotion, we have been putting effort in creating working environment across the company where women can truly thrive and play active roles. We are trying to change the mindset of both managers and female employees themselves, regarding the empowerment of women as a driver for the reform of our corporate culture.
For example, we implemented a training program to help female employees develop their careers with higher motivation. In the program, these employees were paired with managers able to advise them as they sought to meet the challenge of fulfilling certain tasks with a higher level of difficulty than their routine assignments, thereby supporting the growth of the participating female employees.
We have also held lectures and training seminars for all managers so that they can deepen their understanding of diversity management. Moreover, across NGK SPARK PLUG and Group companies in Japan, the departmental heads led the formulation of action plans appropriate for their own departments and the departments that excelled in implementing the plans received incentive awards. The action plans target measures for diversity in general, not limited to those for the empowerment of women. We are also working to expand our systems to provide workplaces where female employees can work with greater comfort.
In addition, as a positive action, we are providing special education to female employees who aim to become managers, including mentoring by executives.
Going forward, we will implement more measures to increase the percentage of female managers.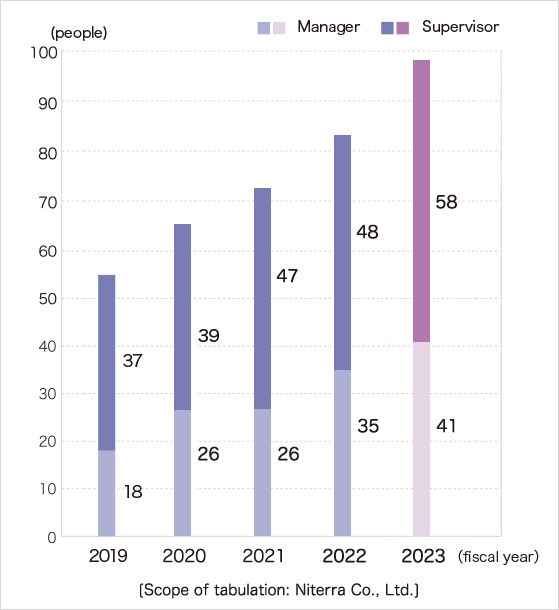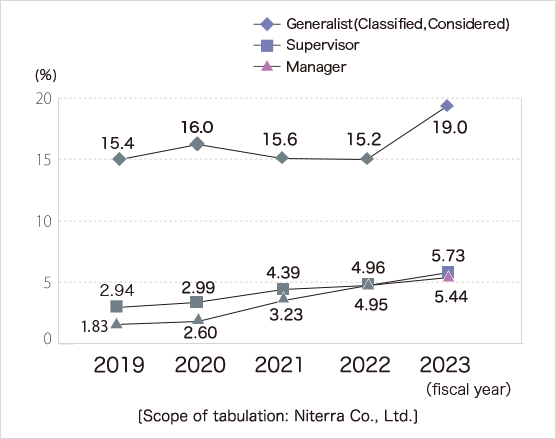 External commendation for the empowerment of women
Signed the Women's Empowerment Principles (WEPs)
Granted Kurumin certification (for FY2020)
Selected to be a Nadeshiko Brand company (for FY2018)
Certified by Aichi Prefecture as an "Aichi Josei Kagayaki Company (Company Supporting Aichi Women's Career Success) (for FY2018)
Included in "New Diversity Management Selection 100" by the Ministry of Economy, Trade and Industry (for FY2017)
Granted Eruboshi two-star certification based on the Act on Women's Participation and Advancement in the Workplace (for FY2016)
Granted the 2015 Japan Productivity Center Incentive Award Empowerment Grand Prix for Activities by Women
Received the 2014 Excellence Award, Nagoya City Accreditation and Commendation System for Companies that Promoted Increased Roles for Women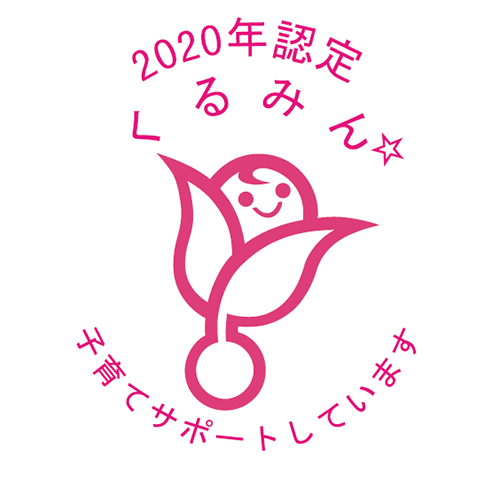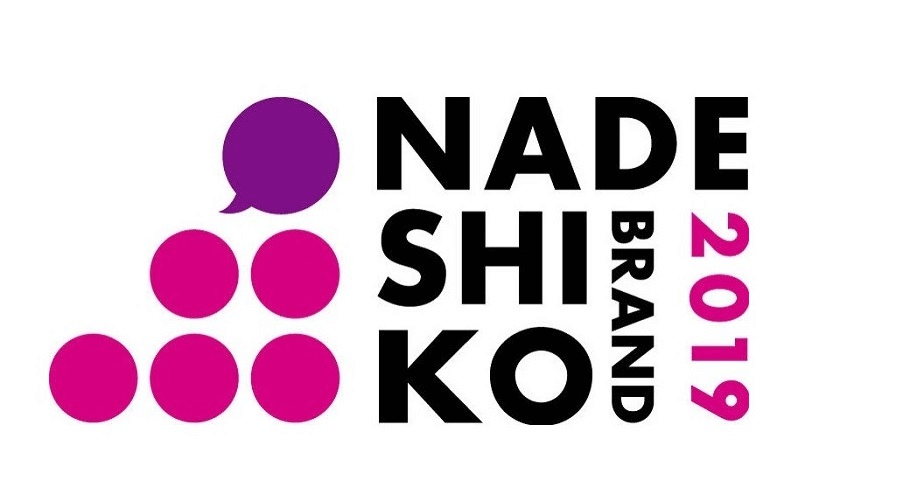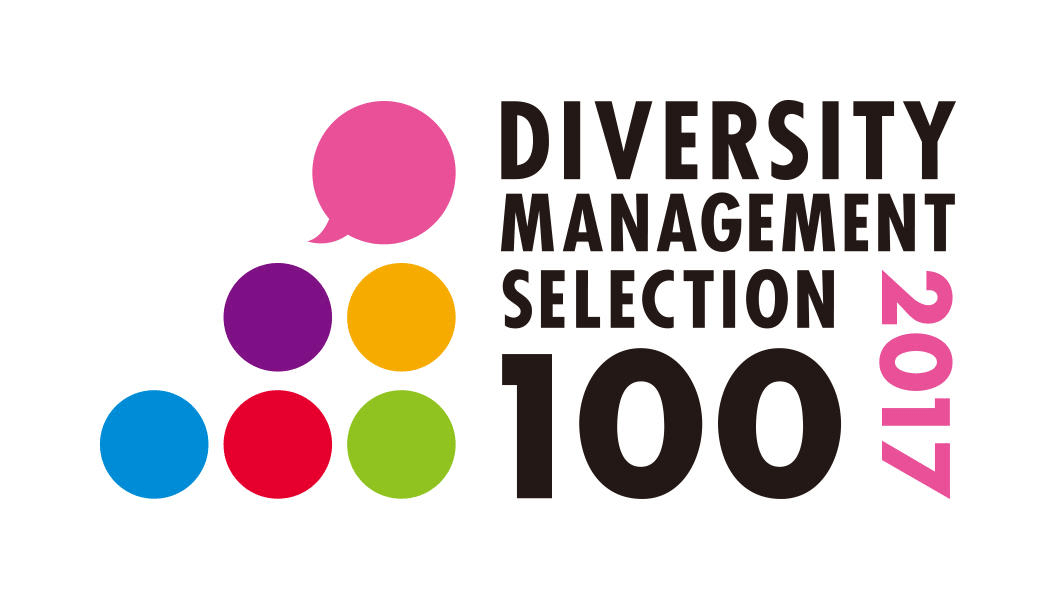 Providing Workplaces Where Employees Can Continue to Exert Their Abilities
The growth of employees leads to the sustainable growth of the company. Based on this recognition, we are working to provide employees with workplaces where they can choose the right career for themselves, enhance their expertise and skills, and continue to make a meaningful contribution.
For example, we launched the Platinum Project targeting employees who are aged 60 and above, also known as the "platinum generation," to ensure that employees who wish to remain in the workforce after reaching the retirement age can continue to use their skills.
In the Platinum Project, we hold various seminars and provide information through an e-zine.
Establishment of a career consultation helpline
Through this contact, employees who have a national qualification for career consulting respond to calls for advice about career vision, work motivation, life events, etc. The career consultants do not provide solutions but instead help the questioners find answers for themselves.
Promoting the use of "My Career"
As a tool to help employees to look back on their past, set their future vision and commit themselves to achieving the vision, we use "My Career." Employees annually input information about their career to date and their future aspirations into "My Career," which their managers then refer to in interviewing them to support their career development.
Diversification of the work styles of the platinum generation
Some employees in the platinum generation are eager to work but do not have confidence in their physical stamina. In response, at some of our plants we have begun to exempt such employees from the night shift upon request, with other employees working at night instead.
Employment of the Disabled
We established Nittoku Smile Co., Ltd. in order to promote employment of workers with disabilities and it was certified as a special subsidiary in January 2018. We aim to create a comfortable environment for workers with disabilities.
The percentage of employees with disabilities at the end of fiscal 2020 was 2.46%, reaching the mandated employment rate of 2.3%. Furthermore, by April 2021, we plan to achieve the mandated employment rate, which is scheduled to be increased to 2.3% and we continue to create a better working environment by promoting understanding of employment of workers with disabilities within the company.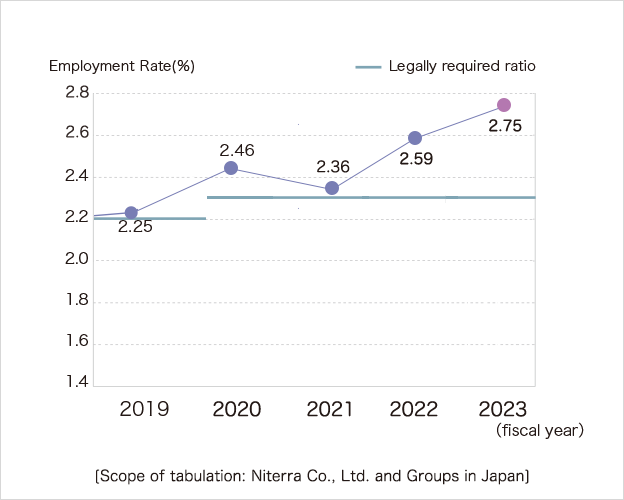 Putting Focus on the Employment of New Graduates with Foreign Nationality
We are promoting the employment of foreign nationals in our effort to adapt to the rapid progress of globalization and encourage diverse talent to play active roles. For new graduates, we have been employing at least three foreign nationals every year, recently with a special focus on the employment of foreign nationals who have studied the Japanese language at overseas universities and want to work in Japan, in addition to those who have studied in Japan.
In order to help newly-hired foreign national employees smoothly adapt to life in Japan, we offer them various supports, including a help site Nittokupedia created by their senior colleagues, a work buddy program to work with Japanese peers, teaching of Japanese language and cross-cultural training. With non-Japanese new graduates and mid-career employees, including both engineers and office personnel, demonstrating their abilities at our workplaces, we can increase our diversity awareness across the company.