Work Style Reform
To improve productivity and develop self-disciplined human resources, we have formulated Work Style Reform Declaration based on two pillars: promoting comfortable remote work and creating new value with tools responding to change.
Work Style Reform Declaration
We recommend "diversified work styles" for "Creating an organization comprised of passionate individuals working together" of Nittoku BX.
• Promote comfortable remote work to employees
 → Create an environment with a goal of a remote work rate of 70% or more.
• Prepare tools that respond to change and create new value
 → To that end, we will invest in digital solutions.
And we want you to find the best for yourself from the many options and become a "self-disciplined human resource who can continue to add value".
NGK SPARK PLUG Group respects each person's values and aspirations.
We are working to put in place a remote access environment and introduce a telephone extension system even available for employees working remotely or on business trips to realize the work style reforms.
We are also promoting the creation of working environment where employees can more easily work remotely by eliminating a requirement for attendance (clock-in time), offering a remote work allowance, putting in place satellite offices and sharing information on ingenious approaches for remote work taken at workplaces.
We will review the modality of organization as well as our business management through the promotion of remote work, and create self-disciplined human resources who are not tied down to tradition and capable of creating new value.
In October 2021, we launched a second job plan with the aim of providing more opportunities for employees to play an active role in various fields. This plan is available for employees who meet the requirements and are granted permission. We expect positive effects, including the formation of new networks, the acquisition of diverse work styles, self-development and self-actualization, and the expansion of business opportunities.
Reduction in Working Hours
We are working to reduce overtime in order to reduce total working hours. When pre-planned overtime is known about, the company management and the labor union confirm the situation in the workplace and engage in consultation designed to keep working hours within the target. As a result of addressing the issues discussed at the labor reform committee, we are starting no-overtime Wednesdays and prohibiting overtime in excess of five hours per day.

Furthermore, as a measure of the labor reform committee, we added a new regulation for having 10-hour intermission between working hours, and failing to comply with the rules is expected to be subject of the labor-management consultation as a strategy for suppressing overtime work.
An annual variable working system was introduced from April 2020, allowing workers to set their monthly working hours according to the year's busy seasons, allowing for a reduction in overtime and a more flexible working style.
Labor-Management Relations
Labor-management relations should be oriented to the combined employer-employee effort to contribute to society through the provision of good products and services. At NGK SPARK PLUG CO., LTD., both labor and management understand their respective responsibilities and strive to improve the work environment through mutual trust and cooperation.
Labor-management conferences are held three to four times a year on individual workplace and companywide bases, providing communication opportunities. These are chances to discuss various topics including the company's situation and how to improve the labor environment, and opportunities for employees to have their opinions heard. These conferences serve as opportunities to form a labor-management consensus through lively discussions on various issues, including the situation of the company and improvement of the working environment.
NGK SPARK PLUG Group labor union
NGK SPARK PLUG Group labor union's participation rate
94%
(As of March 31, 2022)
*Including CERAMIC SENSOR CO., LTD, SparkTech WKS CO., Ltd., NANSEI CERAMIC CO., LTD., NTK Medical CO., LTD., NTK CUTTING TOOLS CO., LTD., NTK CERATEC CO., LTD.(Komaki Plant)
Initiatives that Consider Work-Life Balance
We are promoting initiatives improve the work-life balance of employees.
The percentage of female employees taking childcare leave now exceeds 98%, and the number of male employees who take childcare leave has increased in recent years.
Through the revision of our reduced working hours plan, which used to be only available for those involved in childcare or long-term care, we have made the plan available without imposing any requirements, thereby expanding the work style options for employees.
For flextime working, we do not set core hours, and from April 2022, hourly leave can be taken, allowing employees to work in a more flexible manner.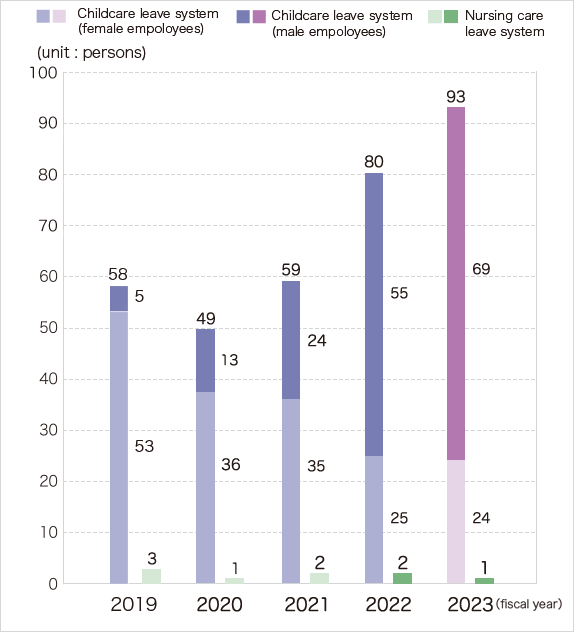 Plans
| Plan | Overview |
| --- | --- |
| Flextime working plan | Employees can decide the start and end times as long as they work the prescribed total monthly working hours. |
| Hourly leave plan | Employees can take hourly leave (paid) for any reason. |
| Second job plan | Employees can be hired by another company or work freelance in accordance with the rules while making the job at our company their main job. |
| Telecommuting plan | We recommend telecommuting toward a target telecommuting rate of 70%. A remote work allowance is paid according to the number of telecommuting days. |
| Reemployment plan for employees retired due to their spouse's transfer | Those retired due to their spouse's transfer can be rehired. |
| Special leave for antenatal outpatient visits | Pregnant employees can take special leave as follows:- 12 to 23 weeks pregnant: one day every four weeks;- 24 to 35 weeks pregnant: one day every two weeks; and- 36 weeks pregnant onward: one day every week. |
| Special unpaid leave for fertility treatment | It is possible to take special leave (unpaid) for outpatient visits to undergo infertility treatment. |
| Childbirth leave | Employees can take leave 17 weeks before the expected date of delivery and eight weeks from the day after delivery. |
| Childcare leave | Employees can take leave after the birth of their child until the day before the child's first birthday. |
| Extension of the childcare leave period | The childcare leave period can be extended to the end of April after the child's second birthday if the child cannot enter a day-care center, or childcare while working has become difficult due to the death/injury/illness of the spouse engaged in childcare. |
| Reduced working hours (childcare) | On the grounds of childcare, employees can reduce their working hours by two hours from the prescribed working hours from the desired date until the end of the school year during which their child is in the third grade at elementary school. |
| Reduced working hours (long-term care) | On the grounds of long-term care, employees can reduce their working hours by two hours from the prescribed working hours from the desired date until the end of long-term care. |
| Reduced working hours (other reasons) | Regardless of the reason, employees can reduce their working hours by two hours from the prescribed working hours from the desired date to a predetermined date. |
| Child nursing care/long-term care leave plan | Employees can take special leave (unpaid) on an hourly basis to provide child nursing care or long-term care if they are raising a child in the third grade at elementary school or younger, or have a family member (in the first or second degree) in need of long-term care. |
| Special paid leave for employees with disabilities for their outpatient visits | Employees with disabilities who have notified the company of their disability can take special leave (paid) once a month when they need leave for their outpatient visit to undergo an examination or consult a doctor. |