We have the Human Rights Policy in place as part of the CSR Basic Policy. When we established the Human Rights Policy, items related to human rights were separated from the Human Resource Policy, and a review was conducted by relevant departments. Deliberations were held in the CSR and Sustainability Committee to establish the policy.
The Human Rights Policy aims to respect the human rights of both employees of our group and all people who are affected by the business operations of our group. The policy is made clearly known to employees through various training programs and e-mail newsletters, etc. It is also publicized to people outside the group through our website, etc.
Promotion System
In our group, we confirm topics related to human rights and take action in the CSR and Sustainability Promotion System as part of issues to be addressed in terms of CSR and sustainability.
Labor and management work together to prevent harassment in the workplace. We offer consultation services through the contact point jointly established by labor and management at each of our plants and via the Corporate Ethics Helpline. The Anti-Harassment Committee promptly examines issues reported through the contacts and checks facts. It then takes corrective action and gives instructions as needed. The results of the action taken are reported to the Compliance Committee. Other matters related to human rights are handled by the Compliance Committee.
The effectiveness of the compliance system, including measures against harassment, is periodically reviewed and reported to the CSR and Sustainability Committee for confirmation.
CSR and Sustainability Promotion System
Awareness-Raising Activities
We distribute the Compliance Guidebook to employees at our group.
The Compliance Guidebook is a booklet that compiles corporate and social rules. It is used to check correct action to be taken as a member of the NGK SPARK PLUG Group when it is difficult to make judgments. This guidebook also stipulates compliance matters related to human rights, including respect for human rights and prohibition of various types of harassment (e.g., harassment related to pregnancy, childbirth, childcare leave and long-term care leave, bullying, and mobbing, as well as sexual harassment, including that directed against people of the same gender and in relation to sexual orientation or identity). The guidebook is also used in daily awareness-raising activities, such as read-through at the workplace.
Since we signed the UN Global Compact in 2016, we have been creating more opportunities to provide education and information on human rights to our employees to raise their awareness. We have been recently increasing opportunities to raise awareness about gender equality and LGBT-related issues through our human-rights-related training and e-mail newsletters. We are also monitoring racial problems around the world.
Human Rights Due Diligence
We are aware that various people, including employees of our group and our suppliers as well as local residents, are affected by the business operations of our group. For this reason, we have been working to identify and mitigate human rights risks related to the business operations of our group.
At present, potential human rights risks are assessed mainly on employees of our group and the supply chain, and efforts are made to mitigate and reduce such risks.
【Employees】
At our group, a compliance awareness survey is conducted to identify risks related to compliance, the degree of awareness and understanding, and the status of the organization, etc. The survey sheet has an open-ended response field. Respondents can anonymously write their opinions about compliance. Issues and potential human rights risks identified through the surveys are reported to heads of respective divisions to prevent them and make improvements.
We also conduct annual surveys on our group companies about human rights and labor issues to check for potential human rights risks.
【Supply Chain】
To promote CSR and sustainability efforts throughout our supply chain, we issued the CSR and Sustainability Procurement Guidelines, which have been deployed to suppliers. The guidelines include compliance matters related to human rights, including labor, safety, and health.
To monitor the status of implementation by suppliers, we conduct surveys every two years using a check list and provide feedback on the results. For suppliers that require follow-up activities, we visit them to check the situation. We also provide support as appropriate when improvements are needed.
Complaint Handling Mechanism
We have contact points in place to accept opinions, questions, requests, etc. from stakeholders, including customers, suppliers, and employees.
Reports and consultation requests related to human rights from suppliers and employees are accepted by contact points for the whistle-blowing system. In response to consultation requests and reports accepted, facts are investigated with utmost care so that an employee or supplier who makes a report is not identified or does not feel anxious. If any problem is identified, action is taken promptly.
【Japan】
Contact points for the Corporate Ethics Helpline (a whistle-blowing system) are in place internally and externally.
External contact points offer consultation services and accept reports outside working hours and on holidays. Consultation requests are also accepted anonymously.
The helpline is available for suppliers and our group employees.
【Outside Japan】
Respective group companies have contact points for whistle-blowing.
Showing Support to the "My Declaration of Human Rights" Project under the Auspices of the Ministry of Justice
In July 2021, we publicized "My Declaration of Human Rights" to show support for the "My Declaration of Human Rights" project promoted by the Ministry of Justice.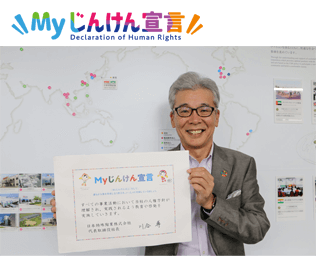 Special website for "My Declaration of Human Rights" of the Ministry of Justice